Golfing is a beloved pastime that has been enjoyed by millions of people around the world for centuries. With the advent of virtual reality (VR) technology, playing golf has become even more immersive and enjoyable. Players can now explore beautiful courses with realistic visuals that feel as if they've been transported to a real-world golf course.
To help you find the best VR golf game for your rig, we've rounded up six of the most popular titles on the market.
6 Best VR Golf Games
Here are the 6 best VR golf games available today:
1. Walkabout Mini Golf
Whether you play by yourself or with others, the game is more fun when you have the ability to chat with other players. The smooth graphics and solid physics make the gameplay look fresh and new. ball travel in between maps is shown in amazing detail!
This game also features real-time leaderboards, allowing you to compete with other players from around the world. You can also customize your character's clothing, clubs and golf balls.
2. CloudLands 2
With CloudLands 2, you don't have to choose between mini golf or playing full holes–you can have courses that are a mix of both! With 1,000 unique parts available for usage, you can construct your dream course easily. If you ever get bored with what you built this is not an issue in the slightest. Simply build something new or play one of the many pre-made ones instead.
3. Tee Time Golf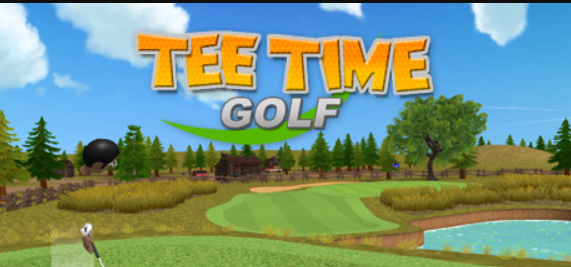 If you have a Steam VR headset and want an immersive golf experience, then Tee Time Golf is one of your best options. Though it has cartoony graphics, the game mechanics are spot-on. You'll feel like you're really teeing off and sinking putts thanks to consistent and satisfying swing mechanics.
Just know that this leans more toward being an arcade game than a simulator. This game is designed and is great for those looking for a casual, light-hearted golf experience.
4. Golf 5 eClub
This game features all the classic and various types of pitches, highlighting wood and iron, that feel exactly the same as real life. With high precision control gameplay, you'll experience richer and more practical golfing than ever before. This game feels ultra realistic in every aspect, from graphics that look so unreal to out-of-the-box physics. This is recommended for those who want to get as close to real golfing as possible.
5. Topgolf with Pro Putt
This is a game that combines the best of VR and classic mini-golf experiences. Utilizing a realistic physics engine, you can hit the ball accurately and with power just like in real life! What's even better is that it comes with a built-in leaderboard, so you can compete against the world's best virtual golfers.
Pro Putt by Topgolf has been described as one of the most realistic VR golf games on the market. This game features photorealistic graphics and highly detailed courses with various hazards such as sand traps and water. Pro Putt also has a built-in tutorial that will help you get the hang of playing golf in VR quickly.
6. GOLF+
This game is updated frequently so there's always something new to play. With a variety of courses and modes available, you'll never get bored while playing it. Every detail in the game feels realistic which makes for an enjoyable experience. The satisfying physics of the game makes every shot feel good.
Can Virtual Reality Improve Your Actual Golf Game?
Yes, playing VR golf can help you improve your actual golf game. Virtual reality games offer a host of features that are designed to sharpen players' skills and techniques. For instance, players can adjust the camera angle to get a better view of their shot. They can also practice different types of swings in order to understand how each one affects the ball's trajectory.
Furthermore, they can analyze their shots to determine what they need to do differently in order to improve. All these features combined can help players become better golfers overall.
In addition, VR golf games also feature various types of challenges that make the game more exciting and engaging. This helps players stay motivated and constantly look to improve their skills.
Whether you're looking for a realistic or casual gaming experience, there's something for everyone when it comes to virtual reality golf games. With these six titles, you can work on your game and compete with players from around the world in a virtual setting. So, grab your VR headset and hit the green!