Last Updated on July 18, 2023
The number of gamers interested in experiencing virtual reality is rapidly rising as more VR games and VR experiences are introduced.
If you're one of the many people interested in trying out virtual reality gaming, you'll need to make sure your computer meets the minimal specifications for the Oculus Rift, HTC Vive, or Valve Index.
What is The Best Valve Index Ready PC?
Below you would find our list of top Valve Index ready PC'S, ranked from best to worst:
iBUYPOWER Pro Gaming PC
The best value for money. It works with all Oculus headsets, including the Quest 1, Quest 2, and Rift S, and allows you to experience VR with spectacular visuals! This will appeal to Valve Index fans.
This model has an i7-9700F CPU, GTX 1660 Ti graphics card, 16GB of DDR4 RAM, a 240GB SSD, and a 1TB HDD for storing most of your stuff, making it the greatest PC for VR in its price range. This PC allows you to play the newest VR games at a high framerate with minimal loading times.
In terms of hardware and appearance, it has a lot going for it. The case's side panel is composed of tempered glass, which adds to the PC's attractiveness to users.
This PC is capable of running practically all games at 150 percent rendering resolution and 120 frames per second refresh rate. For those who wish to use the experimental 144 Hz refresh rate, here's a somewhat more powerful PC.
Continuum Micro Gamer PC
This is a beast of a PC that will allow you to push the frontiers of VR by rendering at more than 150 percent resolution and playing games at 120/144 Hz refresh rates.
This is the best option if you can afford it and want the most immersive experience imaginable. Ultra high-resolution headsets, such as the Pimax 8K X or HTC Vive Pro 2, are also suggested. This machine is quite close to becoming the finest computer available.
CUK MPG Velox By MSI Gamer Desktop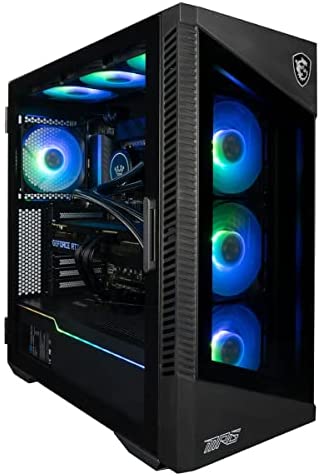 This PC features a less powerful graphics card (RTX 3080 10 GB vs. RTX 3080 Ti 12 GB on the top computer), but you receive a lot more storage and RAM for multitasking in exchange.
SkyTech Oracle Gaming Computer Desktop PC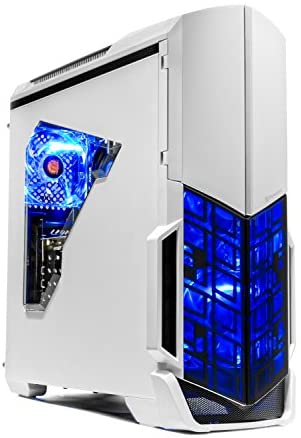 Simply said, the Oracle deserves to be regarded as the ideal VR PC since it offers the greatest bang for your buck. Oracle has a 2nd-gen Ryzen 5 2600 CPU with a GTX 1660 graphics card, allowing you to play 4K resolution and Virtual Reality games at a high framerate. If you don't have the technical skills to construct your own PC and don't want to overpay for a substandard gaming machine, this choice is a great balance owing to both the processing power and the Nvidia RTX 2080 graphics card.
SkyTech Archangel Gaming Computer Desktop PC
The Archangel is a fantastic budget VR PC that, due to its Nvidia GTX graphics card and AMD's Ryzen 5 3600 hexa-core CPU, gives a pleasant gaming experience at a reasonable price. The tower itself is of average height, but it has the power to play AAA games in crisp 1080p quality and VR games at a high framerate, which is something you won't find at this price point very often.
Omen By HP Obelisk Gaming Desktop Computer
This VR gaming PC features cutting-edge hardware that allows you to play the newest VR games as well as AAA blockbusters like Assassin's Creed Valhalla, Fortnite, and Valorant. You also receive a trendy, boutique-themed design as well as a liquid cooling system that smooths out the offered performance. The OMEN is also readily upgradeable, ensuring that it will continue to function as your gaming PC for many years.
ROG Strix GL10DH Gaming Desktop PC
The Strix GL10 warrants your attention if you're looking for a low-cost VR-ready PC. To develop a competent entry-level gaming machine, the maker removed some of the showy trimmings and high-end components. The Strix delivers smooth, reliable performance while being housed in an attractive design thanks to its meticulous construction. Apart from running all famous VR games smoothly, this PC is also capable of running games like GTA 5, Fortnite, Assassin's Creed, Valorant, and many more.
Are All gaming PCs VR ready?
Most "gaming" computers will meet the minimal specifications for the HTC Vive, Oculus Rift, and Valve Index. However, not every PC labeled as a "gaming" PC will fulfill the VR minimum requirements, so be cautious when selecting a gaming PC.
How Do I Know If My PC Is VR Ready?
You must verify what hardware is installed on your PC. Most importantly, you'll need to know your current machine's processor, GPU, operating system, and memory capacity. Once you know your PC's specifications, you may compare them to the VR headset's minimal requirements. If your PC meets the minimal requirements for that headset, it should be VR ready.